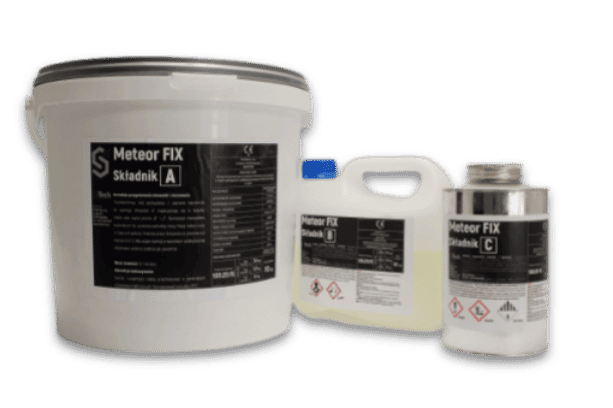 SOLVENT-FREE ADHESIVE BASED ON EPOXY RESINS
A three-component adhesive/repair mortar based on epoxy resin, mineral fillers and rheology modifiers. Suitable for use in conditions of elevated substrate and air humidity.
APPLICATION:
bonding of concrete and polymer concrete elements;
placing drainage troughs;
as a mortar for erecting masonry of various mineral materials;
reprofiling of damaged building elements;
gluing of chemically resistant tiles;
filling of cavities;
restoration of sharp edges.
PRODUCT
DESCRIPTION
COLOR
UNIT
QUALITY IN PACKAGE
NET RETAIL PRICE PER UNIT
Meteor Fix
solvent-free epoxy-based adhesive
silicon
kg
10

PLN 27.63

1

PLN 75.95
Ask for product