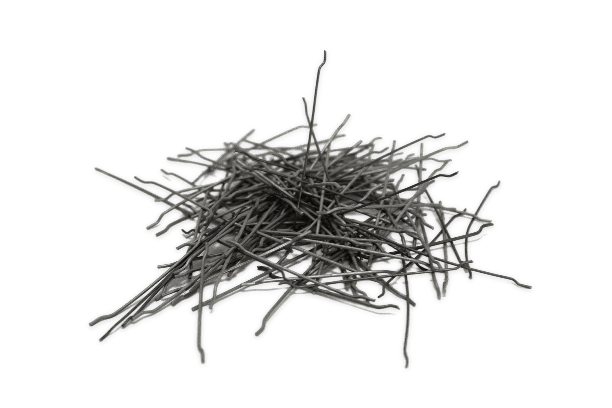 Steel fiber used for dispersed reinforcement of concrete is an excellent addition to heavily loaded industrial pavements. In addition to changing the physical characteristics of concrete, the use of steel fiber makes it possible to eliminate shrinkage cracks in concrete.

APPLICATIONS:
floors in industrial halls, factories, warehouses, etc.
surfaces of highly loaded road sections,
parking of construction equipment,
concrete prefabricated elements (culverts, septic tanks, tanks, coils),
airport surfaces,
Most important advantages of steel fiber for homogeneous dispersed reinforcement
The steel fibers offered by our company have grown significantly in popularity in recent years. Previously, they were mainly used in concretes for the construction of automobile parking lots. Meanwhile, today the homogeneous dispersed reinforcement formed from them is also being reached for many other projects, such as traffic pavement structures or for making industrial floors. This is due, among other things, to economic issues, since steel fiber is often cheaper than other methods, and on top of that, it allows to achieve the desired results faster. Another aspect in favor of homogeneous reinforcement is the ease of installation, which is closely related to time savings, and therefore its use above productivity. In turn, the attractive price reduces investment expenses, and thus positively translates into the finances of the organization or persons implementing a given construction project. In particular, we recommend it for the manufacture of non-structural prefabricated elements, since at a low cost it ensures their excellent performance.
Stainless steel fiber – sales offer
Using the proposed steel fibers, you can expect good strength of concrete. High resistance to negative external influences allows their use even in the most difficult, very demanding conditions. Thanks to them, the reinforcement becomes stronger and less susceptible to all kinds of damage, such as cracking, shrinkage, scratching or mechanical damage. We also recommend them for their versatility of use, which includes the possibility of use in a variety of objects regardless of their size or shape. They do an excellent job, for example, in the case of prefabricated elements, plating or castings.
Our offer includes high-quality steel fiber, which we supply for the needs of individuals and companies in the construction industry. We are a regular supplier to many companies carrying out both small-scale projects, such as individual housing construction, and large-scale infrastructure or business projects. Our products are covered by approvals and meet the requirements of the Polish and European markets. We sell steel fibers even in large quantities and always offer competitive prices. We invite to cooperation customers from both Poland and other countries who are looking for a proven and reliable partner providing access to high-quality materials.
| | | | | | |
| --- | --- | --- | --- | --- | --- |
| PRODUCT | DESCRIPTION | COLOR | UNIT | QUANTITY IN PACKAGE | NET RETAIL PRICE PER UNIT |
| Fiber steel | steel fiber 50/1 | – | kg | 25 | price negotiable |
Ask for product