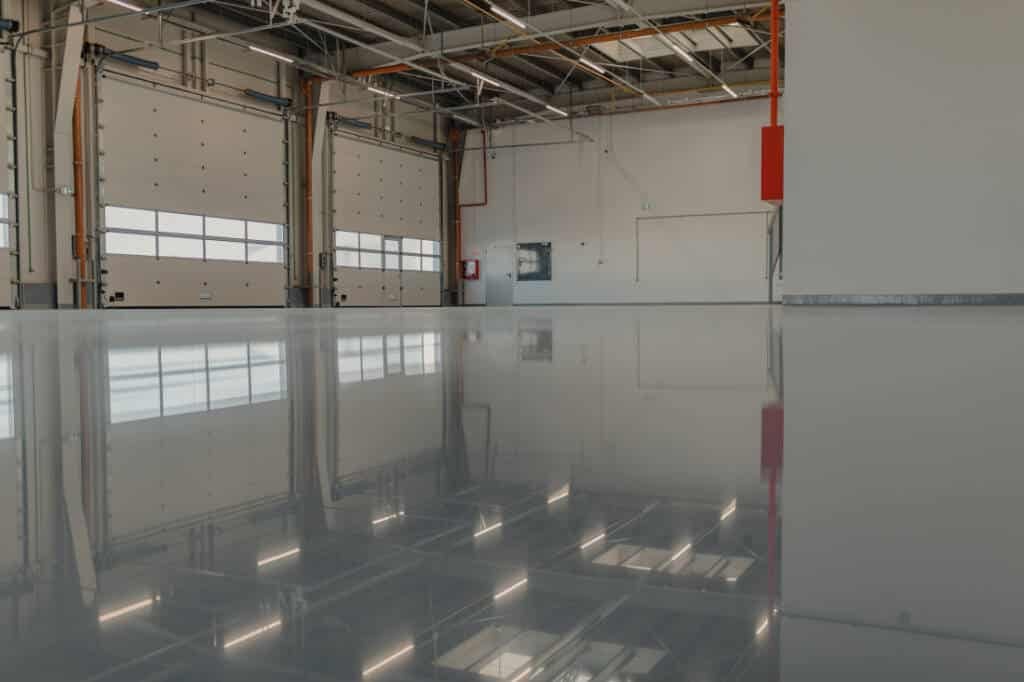 There are many materials used to cover floors. However, excellent polyurethane floors, which are distinguished by numerous advantages, are gaining popularity. First of all, they are comfortable to use, durable and truly aesthetic. Most importantly, they can be used in many places. As a proven company, we sell modern resins such as priming and construction resins, as well as colored ones for final layers. They have very good mechanical properties and are efficient. They are sure to meet the requirements of all customers. So, we encourage you to familiarize yourself with the offer and contact us!
What are polyurethane resins?
It is worth explaining at the outset that high-end floors are made of polyurethane or epoxy resins, which are special mixtures of synthetic materials. This type of material, when poured, penetrates into cracks, various cracks and cavities. This results in an even, smooth surface ready for intensive use. Polyurethane flooring is laid as a coating without any joints, and the substrate for it must be properly prepared. It is necessary to get rid of any defects, degrease and vacuum the area in question. Depending on your needs, you can opt for thin-layer, resistant thick-layer or extremely durable thick-layer quartz variants.
Wide application of polyurethane floors
The popularity of excellent resin floors is related to their versatility. Over the years, they have been used in industrial facilities such as factories, as well as warehouses, parking areas or other commercial spaces. With the development of technology, they began to appear in public facilities, homes and apartments. The proposed polyurethane coverings can be used to finish balconies, terraces, garages or workshops. A modern trend is also to choose these solutions for living rooms, kitchens, bathrooms or children's rooms. All because such synthetic materials combine impeccable aesthetics with excellent resistance to various external factors.
Extraordinary durability of polyurethane floors
When you decide on a certain type of flooring, you count on it being used for years. It should be noted, therefore, that polyurethane floors are, contrary to appearances, soft, which prevents them from cracking and provides high resistance to mechanical loads, scratches and micro-damage. The resilience means that there are few visible marks on such resins, and a top coat of varnish can provide additional reinforcement. Also noteworthy is the non-susceptibility of polyurethane floors to chemicals and detergents. The surface of such floors is very tight. It will not be harmed by moisture and advanced cleaning treatments, as well as UV radiation. It is warm, even when you walk on it with bare feet. If necessary, underfloor heating can be installed under it.
Elegant polyurethane resin solutions
With the advent of polyurethane flooring in residential spaces, aesthetics began to play an important role. Finally, the floor is an important design element, complementing the walls, furniture and minor accessories. Such solutions will work well in industrial or modern style. The surface of synthetic resin can be combined with dyes, which allows you to create interesting color compositions and original 3D effects. The structure will then gain decorative qualities and can be finished in high gloss or matte. In addition, it will always be really quiet, as it dampens the sound of footsteps well, and is also suitable for allergy sufferers.
Creating polyurethane floors
The resins sold must be applied in the right way. Ideally, this should be handled by experienced professionals. As mentioned, the creation of polyurethane floors requires preparation of the substrate. Sometimes it is necessary to sand down the glue or paint and fill in the defects. After that, it is necessary to lay a priming layer to strengthen the surface in question. The next step must be the application of the so-called filler, and then the lining of the actual resin – this is done evenly, going from the edges to the center of the floor. Finally, it is enough to apply a clear finishing coat. The substances mentioned are low in content and VOC emissions, so they meet environmental friendliness standards.
Best polyurethane resins
We offer excellent priming or pouring polyurethane flooring resins to all those looking for the best flooring products. Their properties will satisfy even demanding users. They are distinguished by good adhesion to the substrate and deep penetration. They can be backfilled with sand and diluted with solvents, and remain easy to apply. Choose from variants in different colors.
Choose a proven resin company
The huge number of advantages of polyurethane flooring makes it worth choosing. We sell highquality resins that will create durable and aesthetically pleasing substrates. This is a good option for industrial facilities, public buildings or homes. If necessary, we provide professional advice and guarantee attractive prices for products. Feel free to contact us now!