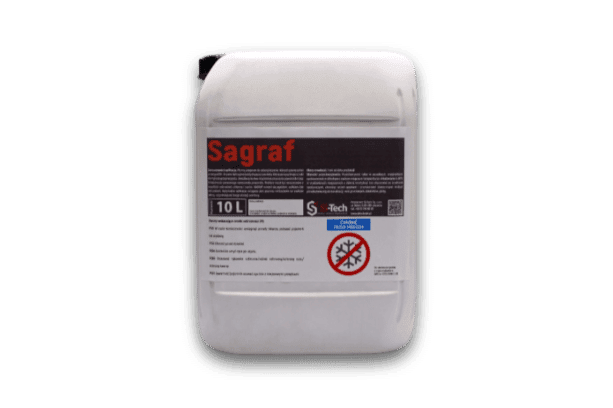 LIQUID PREPARATION OF VARYING CONCENTRATIONS FOR PROTECTION OF VARIOUS SURFACES AGAINST GRAFFITI
A fully diffusive (breathable) coating that turns slightly foggy and translucent when dry. This allows it to be rinsed off two to three times without reapplication.
CHARACTERISTICS AND APPLICATION OF PRODUCT:
fast, simple and effective removal of graffiti and other stains – estoring the original condition of the surface;
removal of graffiti without risk of damaging the material – fully ecological, in accordance with the art of construction;
low cost (hot water) – lower than traditional, invasive and ineffective methods such as sandblasting, sanding, chemical removal, or even painting. Anti-graffiti protection is a significant saving of labor and money. Certainty of a dramatic reduction in the cost of getting rid of unwanted contamination and preserving the facade in perfect condition. To effectively remove paintings from the protected surface, hot water is sufficient – no need for expensive agents and specialized equipment;
maintenance – operational savings – the protection insulates the facade layers from the influence of factors that cause their natural aging, such as moisture, mosses, UV, traffic and atmospheric dirt. Dirt does not bind to the structure of the protected surface, but persists on the top layer of the protective coating, so it can be easily removed;
discourage graffiti artists – the difficulty of making graffiti and its quick and effective removal discourages its authors from visiting again.
| | | | | | |
| --- | --- | --- | --- | --- | --- |
| PRODUCT | DESCRIPTION | COLOR | UNIT | QUANTITY IN PACKAGE | NET RETAIL PRICE PER UNIT |
| Sagraf | liquid preparation for protecting various surfaces against graffiti | transparent | liter | 20 | PLN 46.83 |
Ask for product