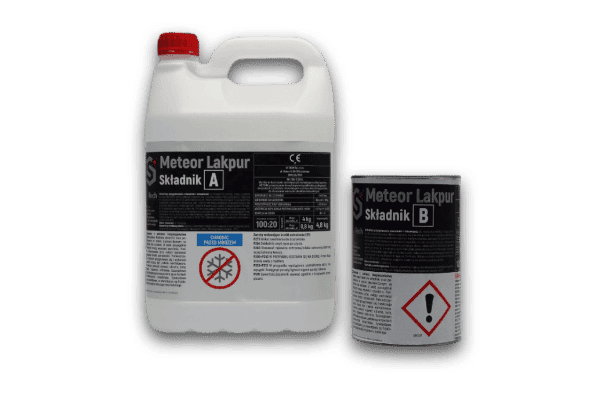 CLEARCOAT. A TWO-COMPONENT, SOLVENT-FREE KIT FOR CREATING A POLYURETHANE PROTECTIVE COATING
For painting a variety of substrates to create a non-absorbent and abrasion-resistant coating and for protecting architectural concrete and microcement, for indoor and outdoor use. Excellent as a closing/protective layer for resin floors.
ADVANTAGES:
two gloss versions: satin and deep matte;
very good abrasion resistance;
very good adhesion to the substrate;
little color change of the painted substrate;
no streaks and roller marks;
resistance to UV;
resistance to the formation of stains,
may be produced as a transparent varnish or in selected colors from RAL palette.
PRODUCT
DESCRIPTION
COLOR
UNIT
QUANTITY IN PACKAGE
NET RETAIL PRICE PER UNIT
Meteor Lakpur Mat

a polyurethane varnish for floorings,  matte finish

transparent
pc
0,72 kg

PLN 98.88

kg
4,8

PLN 77.77

selected colors from the RAL palette
as above
as above

price negotiable

Meteor Lakpur Satyna

a polyurethane varnish for floorings, satin finish

transparent
set
0,72 kg

PLN 88.16

kg
4,8

PLN 67.14

selected colors from the RAL palette
as above
as above

price negotiable
Ask for product